Rick Alleva
Extension Field Specialist, Youth & Family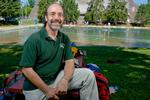 Serves on the UNH Cooperative Extension Youth & Family Team, promoting positive youth and family development efforts in partnership with other UNH faculty, local organizations, coalitions and communities. Helps to identify and address needs of youth and families, targeting outreach to those with limited resources and in greatest need. Works to mobilize both human and material resources to impact positive outcomes for young people, their families and all our communities.
Biography
Rick Alleva joined UNH Cooperative Extension in September 2002 as an Extension Educator with 4-H Youth Development. He has provided leadership in youth development programs addressing the needs of young people and their families, including those experiencing significant personal and social challenges. He has assisted community-based efforts to involve youth through coalition building, demonstration programming, staff training, grant development, and other partnerships. Rick has enjoyed learning side-by-side young people through boards, committees, support groups, workshops, community service and other educational efforts. Rick works to promote positive youth development in partnership with other UNH colleagues through collaboration and cooperation involving young people, parent/guardian/family members, service providers and community leaders.
Recent accomplishments have included major program and resource development, including grant funding and professional support for local coalitions, afterschool, school and community programs. Specific projects have included:
~~management of the Seacoast Youth Leadership Project through a 5 year federal CYFAR (Children, Youth & Families At-Risk) grant with Seacoast Youth Services in Seabrook;
~~establishment support for the Raymond Coalition for Youth, a youth development and prevention coalition of parents, youth and professionals;
~~co-developing the Courage to Care curriculum, an empathy and civility program for middle school age youth;
~~serving on the NH Afterschool Network's Leadership Team to support networking on behalf of high quality afterschool programming in NH;
~~certified as a Master Professional trainer for afterschool providers through the NH Afterschool Professional Development Career System;
~~completed the Mindful Schools curriculum training for providing education programs to children and youth.
~~certified as a Youth Mental Health First Aid Instructor for providing YMHFA training to others.
Rick received the UNH Cooperative Extension Rapid Response Award in 2014 for contributions to addressing youth mental health needs, Presidential Award of Excellence in 2012 (see: http://www.unh.edu/staffexcellence/2012/pae/pae_12.cfm?image=alleva), the UNHCE Diversity and Pluralism Award in 2008, and the Raymond Coalition for Youth Compass Award in 2008, and graduated from the UNH Engaged Scholars Academy in 2008.
Rick served as chair of the Positive Learning Environments for Youth (PLEY) Area of Expertise for the UNHCE Youth & Family Team ( 2012-2014) and currently is a member of the Child, Youth & Family Resiliency AOE.
Educational Background
B.A., Tufts University, Psychology
M.Ed., Boston University, Humanistic Education & Human Services
Ed.D., Boston University, Humanistic Education & Human Services

Dissertation: Youth At Risk, Systems In Crisis: A dialogue with youth who needed shelter
Experience
Demonstrated leadership in public and private non-profit youth and family service organizations, including administration, direct services, training and technical assistance/consultation.
Work experience in multiple settings, including community and youth centers, intervention and prevention programs, residential treatment and shelter facilities, and school, afterschool and summer programs.
Youth development efforts via youth-adult partnership, community service, leadership, expressive/media arts, outdoor education, work experience, responsible use of new technologies.
Major grant awards for youth and family services, including at-risk and limited resource populations and communities, children with severe emotional difficulties, pregnant and parenting teens, high school drop-outs, runaway, truant and homeless youth, and empathy promotion/bullying prevention programming.
Co-authored the Courage to Care program to promote caring, empathy and compassion for middle school students. Served as co-principal investigator on NIFA Rural Health and Safety Education grant to study the program effectiveness using a quasi-experimental design with intervention and control groups.
Professional Associations
New Hampshire Afterschool Network (NHAN), State Leadership Team
NH Afterschool Master Professional (Workshop Trainer, Faculty, & Program Consultant endorsements)
Rockingham County Community Resource Network, Board Member
21 Century Community Learning Centers' Advisory Boards in Seabrook, Somwersworth and Raymond, NH
Program Specialty Areas
Positive Youth Development
Citizenship, Character, Care/Empathy, Civility Development
Mindfulness Education & Youth Development
Science Inquiry/Education, Renewable Energy, Responsible Technology
Youth-Adult Partnership, Youth Empowerment, Youth Leadership
Positive Behavior Management, School/Program Climate/Culture
Parent/Guardian & Family Involvement
Internet Savvy & Safety: Social Media, Cyberbullying
Afterschool Program Development & Training
Needs Assessment, Planning & Evaluation
Collaboration & Coalition Building
Grants Research, Writing & Development
Contact Information