Lisa Townson
Interim Director, Professional Development & Training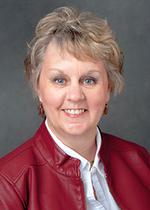 Provide overall organizational leadership for program support, including: marketing and communications, technology, educational program development, implementation, evaluation and reporting.
Provide leadership to interdisciplinary programmatic efforts that further the community engagement mission of the University New Hampshire.
Serve as liaison to NE Extension Directors and serve on national Extension system committees, representing the Northeast and UNH Cooperative Extension
Biography
Lisa Townson joined UNH Cooperative Extension in December, 1998 and currently serves as the Assistant Director for Program Suppport. She provides state-wide organizational leadership for program development and evaluation for Extension staff in all program areas, provides oversight for the organization's support units including marketing and communications, information, technology and distance education and staff development.
Nationally, Lisa is a co-founder and currently chair of the Emerging Engagement Scholars Workshop. This profesional development workshop, held annually in conjuncation with the Engaged Scholarship Conference, prepares advanced graduate students and junior faculty to incorporate the tenates of university engagement into their scholarly work.
Originally from Michigan, she worked as an agriculture agent and then a district livestock specialist in Ohio and Michigan for seven years prior to her move to New Hampshire. Her educational background is in animal science, agricultural education, and more recently higher education.
Current Research
Disciplinary differences among faculty in how they view and carry out engaged scholarship projects
Educational Background
Doctor of Philosophy (PhD) Higher Education, University of New Hampshire, 2009
Masters of Science (MS) Agricultural and Extension Education Michigan State University, 1996
Bachelor of Science (BS) Animal Science Michigan State University, 1985
Experience
University of New Hampshire - Assistant Director, Programs and Program Support

Extension Specialist, Program Development & Evaluation

Extension Specialist, 4-H Youth Development

Michigan State University Extension - Served as regional livestock specialist in Southeastern Michigan, working closely with beef and sheep producers there. She acted as a co-chair for the state-wide Extension Livestock Team and delivered local and state-wide programming.
Ohio State University Extension - Worked with agriculture and 4-H. She soon moved into a multi-county water quality/dairy/livestock position. Working with a team of Extension Educators and other agency personnel, she addressed water quality issues as part of a Federally funded Hydrological Unit Area (HUA) project.
Professional Associations
Engaged Scholarship Conference Consortium - Leadership Committee
American Evaluation Association (AEA) - Extension Education Evaluation Topical Interest Group
Program Specialty Areas
University Outreach and Engagement -- engaged scholarship, faculty rewards, faculty and graduate student development.

- UNH Outreach Scholars Academy - http://www.unh.edu/outreach-scholars/ - Emerging Engagement Scholars Workshop - http://ncsue.msu.edu/eesw/default.aspx

Program development and evaluation -- logic models, on-line surveys, staff development around evaluation
Select Publications
Pereira, A.B., Brito, A.F., Townson, L.L., Townson, D.H. (2013). Assessing the research and education needs of the organic dairy industry in the northeastern United States. Journal of Dairy Science. 96(11) 2013
French, C., Williams, J.E., Tang, J., Abrams, E., Townson, L., Sabin, M., Sandmann, L.R., Wake, C. (2013). The University of New Hampshire engaged scholars academy: Instilling in faculty principles of effective partnership. Journal of Public Scholarship in Higher Education. (3) 2013.
Potter, S., Abrams, E., Townson, L., Wake, C., Williams, J. (2010). Intellectual growth for undergraduate students and faculty: Evaluation results from an Undergraduate Research Conference. Journal of College Teaching & Learning. 7(2) February 2010.
Potter, S., Abrams, E., Townson, L., Williams, J. (2009). Mentoring undergraduate researchers: Faculty mentors' perceptions of the challenges and benefits of the research relationship. Journal of College Teaching & Learning. 6(6) October, 2009.
Franz, N.K., Townson L. (2008). The nature of complex organizations: The case of Cooperative Extension. New Directions for Evaluation. (120) Winter 2008.
Meyer, S., Halter, S., Townson, L. (2007). Assessing after-school program efficacy in engaging youth in New Hampshire: Using logic models to develop evaluation research design and measures. The New Hampshire Journal of Education (X). Spring 2007.
Abrams, E., Townson, L., Williams, J., Sandmann, L. (2006). Engaging faculty at the University of New Hampshire: The Outreach Scholars Academy. Journal of Higher Education, Outreach, and Engagement. October, 2006.
Contact Information