Charlie French
Program Team Leader, Community and Economic Development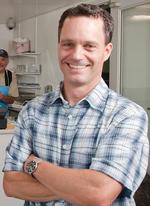 Biography
Charlie is Program Team Leader for UNH Cooperative Extension's Community and Economic Development Program, whose mission is to cultivate civic leaders, foster participation in community decision-making, strengthen entrepreneurs' skills in value-added farming, fishing, and forestry, and enhance communities' capacity to grow the local and regional economy.

He also serves as an Extension Specialist/Associate Professor in Community and Economic Development, for which he provides municipalities with education and technical support in the areas of land use, technology infrastructure, tourism development, civic agriculture, and community-economic development. From 1999 - 2001, he was an Economic Development Educator for the University of Illinois Extension and from 1995 - 1997 he served as a Peace Corps Volunteer in rural Panama, where he taught conservation principles and sustainable agriculture techniques to school-age youth and to subsistence farmers (see vignette in UNH Magazine).
Charlie brings his applied experience into the classroom as a faculty member in the Masters in Development Policy and Practice program where he teaches a course on land and resource use conflict. His current research, funded through NH SeaGrant, is focused on identifying opportunities and barriers to cultivating alternative markets for NH-caught seafood.
Current Research
Alternative markets for local seafood
Public participation in local decision-making
Civic agriculture
Rural entrepreneurship
Educational Background
Ph.D. in Natural Resources and Earth Systems Sciences, University of New Hampshire.
M.A. in Geography/Rural Economic Development and Planning, Western Illinois University.
B.A. in Geography/Environmental Studies, Dartmouth College.
Experience
Faculty Fellow, Carsey Institute, University of New Hampshire (2012 - present)
Board Member (former Vice Chair), Sustainable Harvest International (2009 - present)
Research and Engagement Faculty Fellow, Office of the Senior Vice Provost, UNH (2011 - 2012)
Board Member (Secretary), New Hampshire GreenStart (2010 - 2012)
Board Member, National Association for Community Development Extension Professionals (2006 - 2009)
Principal Investigator on multiple grants, including "New Hampshire Broadband Literacy and Training Partnership" ($600,000), Nitrogen Sources and Pathways in the Great Bay Watershed" (Co-PI, $600,000), Alternative Markets for Seafood Products" ($80,000), and "Community Assets for People (GIS) Mapping Project" ($40,000).
UNH Outreach Scholar (2004 - 2005).
Economic Development Educator and Carbondale Extension Center Coordinator, University of Illinois Extension (1999 - 2001).
Peace Corps Volunteer, Environmental Education and Sustainable Agriculture (Panama 1995 - 1997).
Cartographic Intern, National Geographic Society (1994).
Professional Associations
National Association for Community Development Extension Professionals.
International Community Development Society.
Northeastern Economic Developers Association
Program Specialty Areas
Community-economic development
Land use and natural resources planning
Civic agriculture
Select Publications
French, Charles; and Curt Grimm. 2015. Leveraging Broadband to Strengthen New Hampshire's Economy and Quality of Life.NH Broadband Mapping & Planning Program with Support from the National Telecommunications & Information Agency. Publication available on the web at: http://extension.unh.edu/resources/files/Resource004673_Rep6682.pdf
French, C., Williams, J.E., Tang, J., Abrams, E., Townson, L., Sabin, M., Sandmann, L, & Wake, C. 2013. "The University of New Hampshire Engaged Scholars Academy: Instilling in Faculty Principles of Effective Partnership." Journal of Public Scholarship in Higher Education. Vol. 3, pp. 19-42.
French, Charles and Paul LaChapelle. 2012. "Assessing Intangible Versus Tangible Community Visioning Outcomes" in Walzer, Norman, Ed. 2011. Community Visioning. Routledge.
LaChapelle, Paul; Emery, Mary; and Charles French. 2012. "Community Visioning Pedagogy: A Theoretical Framework for Teaching Visioning to Citizens and Practitioners" in Walzer, Norman, Ed. 2011. Community Visioning. Routledge.
French, Charles; Becker, Mimi L.; and Bruce E. Lindsay. 2010. "Havana's Changing Urban Agricultural Landscape: A Shift to the Right?". 2010. The Journal of Agriculture, Food Systems and Community Development. 1(2).
French, Charles and Michele Gagne. 2010. "Ten Years of Community Visioning in New Hampshire: The Meaning of Success". Special issue of the journal Community Development, 41(2), pp. 223–238.
French, Charles and Fabienne Lord Fonseca. "Ten Years of Community Profiles in New Hampshire: Community Success Stories". Published by the University of New Hampshire, August 2008.
French, Charles; Giraud, Kelly, and Sally Ward. "Building Wealth through Ownership: Resident-Owned Manufactured Housing Communities in New Hampshire." Journal of Extension. April 2008. Article available on the Web at: http://www.joe.org/joe/2008april/a3.shtml
Ward, Sally; French, Charles and Kelly Giraud. "Resident-Owned Communities in New Hampshire". Cooperative Housing Journal. Published by the National Association of Housing Cooperatives. 2006 Annual Issue.
Co-Author of "Cooperative Extension's Community Development Foundations of Practice". Published in partnership with the National Regional Rural Development Centers. January 2005. Publication available on the Web at: http://www.ncrcrd.iastate.edu/projects/corecomp/fop.pdf
Contact Information