Fred Borman III
Extension Field Specialist, Natural Resources & County Office Administrator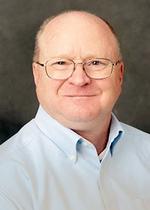 Forest management/timber harvesting
"Backyard woods" management
Tree identification
Christmas tree culture
Invasive species identification and control
Wildlife habitat
Federal cost-share program assistance (EQIP/WRP)
Municipal tree programs, tree planting, inventory, management planning
Biography
Fred Borman is the Field Specialist for Natural Resources in Rockingham County. If you are a landowner with more than 10 acres of forest land, Fred is available to visit your woodlot, help you visualize your goals and objectives for managing your property and provide you with a list of licensed foresters who can help you implement your management strategies. If you own less than 10 acres, Fred can provide you with materials and fact sheets that will help you to better understand, utilize and manage your "Backyard Woods." Fred partners with the Natural Resources Conservation Service to deliver forestry cost-share programs to forestland owners in Rockingham County.
Some of the areas in which Fred has expertise are silviculture, timber harvesting, Christmas tree management, tree identification, the Tree Farm program, wildlife habitat enhancement, soil and water quality, aesthetics and recreation.
Fred is also available to help municipalities with the management of their urban tree resources as well as provide educational opportunities on town forests. Fred is available to conduct workshops and other educational programs for conservation commissions and school officials. For his MPA degree, Fred conducted a pre-storm inventory of the city's trees in Portsmouth and prepared a Tree Emergency Manual for the city to use in the event of a catastrophic storm event.
Fred has over 30 years experience as a Forester, the last five with UNH Cooperative Extension. He is a graduate of the University of Massachusetts with a B.S. in forest management. and has his Master's in Public Administration from the University of New Hampshire. He retired in 2007 from the Connecticut Department of Environmental Protection, Division of Forestry, as the program leader for the private and municipal lands program.
Educational Background
AAS, Business Management, Grahm Jr. College, 1972
BS, Forest Management, University of Massachusetts , 1980
MPA, University of New Hampshire, 2011
Program Specialty Areas
Silviculture
Urban and Community Forestry
Invasive Plant and Insect species
Contact Information