COMMUNITY TOOLS: Conservation Planning For Wildlife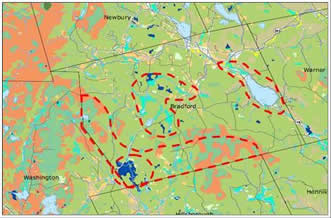 A conservation plan is a vision for the future ecological health of an area and provides an action plan to protect these features over the long term. The Natural Resource Inventory forms the basis for a conservation plan. Follow
the steps below to create a conservation plan for wildlife.
1. Reference Your NRI
Refer to your Natural Resources Inventory (NRI) to identify and describe important wildlife habitats in your community.

Use the Habitats Land Cover Map map showing habitat areas you prioritized in your NRI (as shown in the Bradford example) and refine these areas. Incorporate other natural resources (e.g. water resources) into those priority areas, depending on your goals for conservation planning.
Review NH Wildlife Action Plan Highest Ranked Habitat Map to identify habitats ranked as of highest importance statewide and regionally
Use the Wildlife Action Plan Critical Habitats and Possible Associated Species table developed for your NRI to cross-reference species of greatest conservation concern and critical habitats in your area.
2. Research habitats and species of concern
3. Identify existing conservation areas
Use the Habitats Land Cover and Highest Ranked Habitat maps to review protected and public lands in your community
Use the GRANITView Mapper's Land Conservation data layer or other sources to identify conservation lands by protection level, primary protection type, agency level and management status.
4. Identify connections to link conservation lands and large habitat areas
Locate existing conservation lands and large unfragmented habitat blocks using the Habitats Land Cover and Highest Ranked Habitat maps to identify critical habitat areas and highest ranked habitats in conservation connection areas.
Use your community's tax parcels map to locate areas of larger parcels that could help establish conservation connections.
5. Using the information collected, write a conservation plan
6. Publicize and implement the plan
Refer to Conducting Public Outreach for Wildlife for ideas and suggestions for a publicity plan.
Promote conservation of prioritized critical wildlife habitats
Use the conservation plan to guide municipal or private voluntary land conservation
Document wildlife conservation priorities and recommended policies in a municipal master plan
Suggest regulatory protection for prioritized wildlife habitats