COMMUNITY TOOLS: Conservation Planning For Wildlife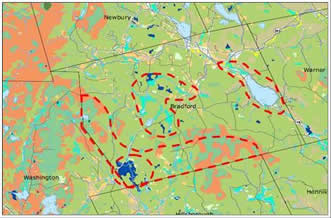 Why Create a Wildlife Conservation Plan? To implement conservation projects that protect what a community or region values requires some type of plan. To be effective, such a plan should be based on a Natural Resource Inventory of the features and resources in a geographic area of interest. By compiling information on the identification, location and attributes of natural features and resources, community or regional groups can develop a plan to protect these features and resources through voluntary and/or regulatory means. A conservation plan is a vision for the future ecological health of an area and provides an action plan to protect these features over the long term. Follow the step-by-step guide below to create a conservation plan for wildlife. This will help you to:
Identify and describe the most important wildlife habitats in a geographic area
Promote conservation of prioritized critical wildlife habitats
Guide municipal or private voluntary land conservation
Document wildlife conservation priorities and recommended policies in a municipal master plan
Suggest regulatory protection for prioritized wildlife habitats
Click here for a print-friendy version of this table
STEP-BY-STEP GUIDE
How to Create a Wildlife Conservation Plan for Your Community
STEP 1: Refer to your Natural Resources Inventory
The Natural Resources Inventory forms the basis for a Conservation Plan. Use the information in the Wildlife Section of your Natural Resources Inventory (NRI) for the following steps:
STEP 2: Research special habitat needs or species of concern associated with critical habitats in your prioritized areas
STEP 3: Identify existing conservation areas
Review protected and public lands in your community using the Habitats Land Cover and Highest Ranked Habitat maps, both of which show the GRANIT conservation lands data layer. Use the GRANITView Mapper's Land Conservation data layer or other sources to identify conservation lands by protection level, primary protection type, agency level and management status and GAP status.
STEP 4: Identify possible connections to link existing conservation lands and other large habitat areas
Use the Habitats Land Cover and Highest Ranked Habitat maps to identify critical habitat areas and highest ranked habitats in conservation connection areas.
Use your community's tax parcels map to locate areas of larger parcels that could be conserved to establish conservation connections.
STEP 5: Using the information collected, write a conservation plan
Use the guidelines provided in Preparing a Conservation Plan
Involve as much public communication and input as possible in writing the plan
Work with your local or regional land trust when developing the plan - you may want to incorporate local or regional conservation prioirities they have identified.
Be aware of and review regional conservation plans that include your town. Examples of some regional conservation plans in New Hampshire include:
STEP 6: Publicize, distribute and implement the plan
Refer to Conducting Public Outreach for Wildlife for ideas and suggestions for a publicity plan.
Use a variety of means - print, meetings, web, email, posters, cable access, radio - to get the word out about the conservation plan and begin putting it into action.