A Little Lunch, a Lot of Potential
Extension's Harvest Lunch and Learn reveals career opportunities for Wildcats
---
On a recent Tuesday afternoon in the MUB, UNH Extension treated Wildcats to a delicious, locally-sourced lunch—and seven possible pathways to future careers.
The annual Harvest Lunch and Learn is an opportunity for UNH students to get an up-close look at how Extension works across the Granite State to help strengthen communities. During the event, students sat in on discussions about Extension program topics, from gardening and farming to youth mental health and community development, and they learned about potential career and internship opportunities in these fields.
If you missed this year's Harvest Lunch and Learn, check out our recap below and contact us for more information about how Extension can help jump start your career.
Developing downtowns and trails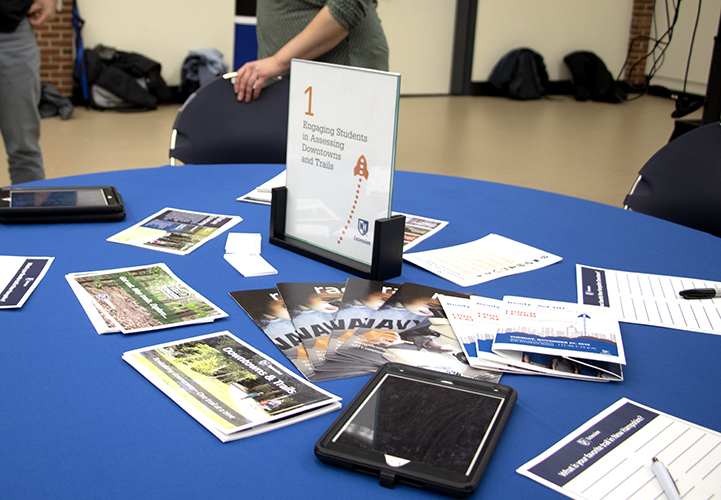 Shannon Rogers, Community and Economic Development state specialist, and Natural Resources field specialist Emma Tutein shared information about a new Extension project, Trail Finder, an online mapping resource that helps Granite Staters find hiking, snowshoeing and cross-country skiing trails near them. They also discussed how trails can help downtown areas draw more visitors, helping them thrive economically. Past CED interns helped collect data on N.H. downtowns and nearby trails, giving them hands-on experience in the field.
Building successful farms
Food and Agriculture field specialists Jeremy Delisle, Kelly McAdam and Elaina Enzien gave students an inside view of their work in supporting farmers in building successful agricultural businesses. Extension specialists help N.H. farmers develop the resources and skills that help their farms flourish, from business and management workshops to programs on integrated pest management, soil health and more. Wildcats interested in agricultural careers will find a wealth of experience in these internships.
Landing a career in natural resources
Greg Jordan, a Rockingham County forestry field specialist, offered students tips on landing careers in natural resources. His discussion focused on what employers are looking for, including soft skills like communication, flexibility and more. He stressed that while technical skills are essential, soft skills can set applicants apart. While many students might imagine spending their day alone in the forest collecting data, the ability to communicate clearly and effectively one-on-one or with small groups is necessary in many natural resources careers and is highly desirable to employers.
Promoting youth mental health
Youth mental health is a concern across communities. That's why Extension is invested in helping communities reach out to vulnerable youth with trainings and technical assistance for school staff, students, volunteers and other community members.
Specialists Rick Alleva and Gail Kennedy introduced Wildcats to Extension's various Youth and Family programs such as, Youth Mental Health First Aid Training, More Than Sad (a suicide-prevention education training) and workshops in social, emotional and mindful learning, which helps youth manage emotions and demonstrate empathy.
Building experience in the field
Extension Natural Resources program team leader Jeff Schloss and Kate Pacheco of UNH's Career and Professional Success helped students understand internship and experience-based learning options, such as the Summer Internships Cohort, which brings Extension interns together for networking and allows them to build strong connections with one another. Additionally, students in this program have a dedicated Extension mentor who advises them on careers and helps them gain research-based, hands-on experience. These paid internships give students the chance work in one of Extension's program areas (Food and Agriculture, Youth and Family, Community and Economic Development, Natural Resources), and these opportunities are available across the state.  
Developing professional skills
Extension's Professional Development and Training program offers conferences, certificate programs and individual one-day courses aimed at helping professionals launch or sustain their careers. With courses ranging from the UNH Drone Academy to digital marketing certificate programs and coding bootcamps, PD&T has a lot to offer professionals looking to enhance their technical skills. PD&T's Chris LaBelle discussed how Wildcats might benefit from additional technical training that set them apart in the job market.
The Harvest Lunch and Learn demonstrated that, no matter what career field Wildcats are interested in, Extension has something for them. Find your path and help us make life better in New Hampshire.
Author(s)