Healthy Local Foods for All
Farmers market dollars go further with Granite State Market Match
---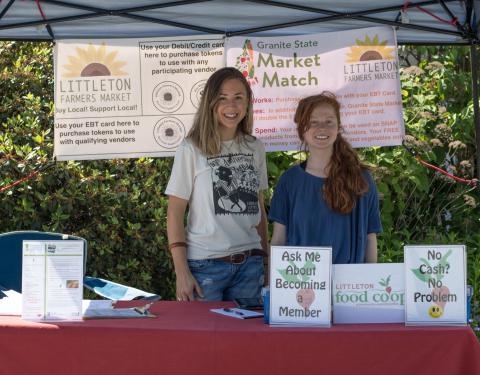 As general manager of the Littleton Food Coop in Littleton, New Hampshire, Ed King knows that it can be expensive to eat healthy and eat local. But King believes healthy eating shouldn't be an economic decision. "Any program that works to ease that burden is a good program," King says.
That's why the Littleton Coop stepped up to help deliver Granite State Market Match, a statewide program that helps make healthy, locally grown fruits and vegetables affordable for participants in SNAP (Supplemental Nutrition Assistance Program), New Hampshire's food stamp program.
Granite State Market Match (GSMM) allows SNAP customers to match the value of their benefits for fruit and vegetables dollar for dollar. That means $10 in food stamps enables shoppers to purchase a total of $20 worth of fresh, local food. The Coop staffs the Market Match booth at the Littleton Farmers' Market every Sunday.
UNH Cooperative Extension Coos County is the regional lead organization serving the North Country for the N.H. Nutrition Incentives Network (NHNIN). Regional leads like Heidi Barker, a Coos County Cooperative Extension field specialist for community health, works with farmers markets to increase capacity for the GSMM program.
"Sam Brown of the Littleton Farmers' Market was spot-on when he engaged the Coop to support and staff this initiative," Barker says. "It's truly brought success to access and affordability in the North Country."
NHNIN, led by the New Hampshire Food Bank, brings GSMM to farmers markets in New Hampshire through support from Wholesome Wave and is funded by the USDA Food Insecurity Nutrition Incentives Program.
Helen Costello, program manager at the New Hampshire Food Bank, says the North Country program is successful for a number of reasons, including the strong partnerships between the community and lead organizers to support local farmers markets. "They have true cooperation, and it's helping citizens live better lives," she says.
The Littleton Food Coop was recently named GSMM's inaugural retail site. King points out that GSMM benefits the local economy. "We struggle with poverty in northern New Hampshire, and Granite State Market Match has drastically increased purchases of local foods by people who never bought local foods before, which directly helps local farmers."
This story originally appeared in the 2017 edition of Radius.
Related Resource(s)
Author(s)