In a Big World, Farmers Speak the Same Language
New Hampshire farmers and Peruvian agricultural students learn from each other

---
"Caliente!" said Tito Ademir Ramos Carrasco as he and three other agricultural students stepped out of a white van and on to a hot, dry field at Stout Oak Farm in Brentwood. The weather, 88 and sunny, wasn't unusual for July in New Hampshire, but it was a far cry from Carrasco's school in Peru, where it rarely breaks 70 degrees.
The quartet of students and their faculty advisor traveled some 3,500 miles as part of a two-week agricultural research and cultural exchange program between UNH and the Universidad Nacional Toribio Rodríguez de Mendoza in Chachapoyas, Peru. Funding for the program was provided by 100,000 Strong for the Americas. Part of the trip included meeting Kate Donald, who co-owns Stout Oak Farm with her partner, Jeff Donald, for an on-the-ground look at Granite State farming.
During the trip, Carrasco and the other students, along with their faculty advisor, spent time at UNH research facilities reviewing experiments and talking with researchers. In this field trip, they got to talk with working farmers in "the real world," said  New Hampshire Agricultural Experiment Station  researcher and UNH Cooperative Extension educator Becky Sideman, who organized the visit to Stout Oak. 
Sideman specifically wanted the students to see how Donald uses high tunnel production, which uses frames and plastic sheeting to create greenhouse-like spaces that improve growing conditions in the field. She suspected that this technique would interest the Peruvians given their cooler temperatures. And she was right.
During the tour, the students' advisor Juan Carlos Guerrero Abad said he plans to experiment with high tunnels and other techniques when he returns to Peru. "New Hampshire farms are very developed. Ours are not," said Guerrero Abad. "On this trip, we are trying to learn management and pest control that we can try in Peru."
Learning is a Two-way Street
Sideman is quick to point out that the trip has been a learning experience for Granite State researchers and farmers, too.  "I think we learn a lot when we see our systems through other people's eyes. When we are asked, 'Why do you do it that way?' we have to think, 'Why do we actually do it our way?  Maybe there are other ways we can do it better,'" she said.  
Peru doesn't have a formal Extension system, so getting good information to producers is a challenge.
The Peruvians were impressed with New Hampshire's level of agricultural development, as well as with the connection farmers have to the university. Guerrero Abad explained that Peru doesn't have a formal Extension system, so getting good information to producers is a challenge. Seeing how Extension educators like Sideman help farmers on their land showed the young Peruvian students the value of sharing research-based information.  
The discussions were lively throughout the tour. Everyone was connected in a way that might seem unlikely for people who live 3,500 miles apart.
Donald, however, wasn't surprised.
"With farmers anywhere," she said, "the conversation is always the same. It is about how to grow crops better, and how to innovate and problem solve. I think those things are just universal."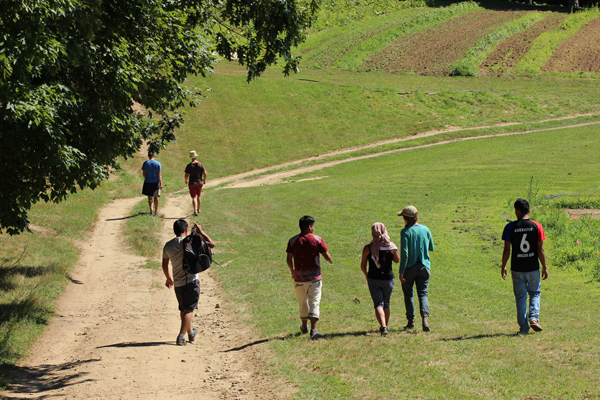 _____________________________________________________
If you liked this story and want to read others like it,
Author(s)