Blue-green algae poses a threat to public health and the environment; professional and citizen scientists in New Hampshire are taking action
---
Warren Muir witnessed firsthand how cyanobacteria can disrupt a lake's health. In 2018, a cyanobacterial bloom accumulated near where he lives, along the shores of Lake Winnipesaukee, prompting the New Hampshire Department of Environmental Services to issue a three-week warning while samples were gathered and analyzed for toxins.
Cyanobacteria are single-celled, microscopic organisms found naturally in all types of water. Cyanobacteria become problematic when they quickly multiply and form a bloom. This occurs in warm, slow-moving water due to an excess of nutrients (phosphorus and nitrogen) from sources like fertilizer runoff or septic tank overflows.
When a bloom forms, the water often changes to a blue-green color that many people describe as looking like pea soup with a frothy scum on its surface. Cyanobacterial toxins from that bloom can cause health problems in humans ranging from skin irritations to damage to the liver and nervous system. These toxins can also be harmful or fatal for animals, including dogs that drink or swim in contaminated water.
Research is currently underway to analyze their effects on aquatic life forms and the subsequent effects that can occur as toxins travel through the food chain — a process known as bioaccumulation.
Many tourists visit New Hampshire for its pristine lakes, but cyanobacterial blooms can pose a threat to the tourism industry and may lead to a reduction in property values.
Bringing Together Stakeholders
Muir is an environmental scientist and retired director of the Division on Earth and Life Studies at the U.S. National Academies of Science, Engineering and Medicine. As a volunteer monitor for Lake Winnipesaukee through Extension's Lakes Lay Monitoring Program, seeing the bloom in 2018 was a disturbing indication of changes in the lake that his family has witnessed over the
course of 70 summers.
The town of Wolfeboro responded to the first cyanobacterial bloom reported in its lakes by forming a cyanobacteria task force, of which Muir is a member, to assess the quality of Wolfeboro waters and to coordinate community-wide efforts to protect its lakes. Wolfeboro has also joined the Cyanobacteria Monitoring Collaborative (CMC), which is a regional group of professional scientists, citizen scientists and trained water professionals.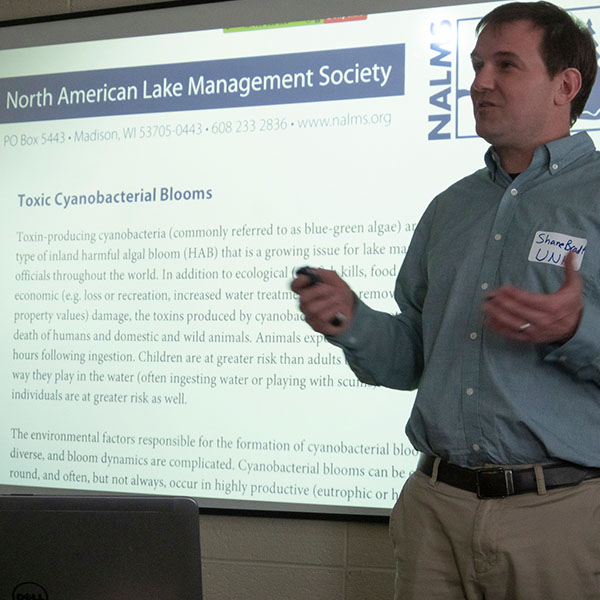 Extension specialist Shane Bradt represents Extension within the CMC. Bradt, a geospatial technology and water quality state specialist, earned his master's and doctoral degrees at UNH by studying cyanobacteria under the mentorship of biological sciences professor Jim Haney.
Bradt has been instrumental in convening stakeholders around this issue to develop consistent methods for both short-term cyanobacterial bloom detection and long-term monitoring of cyanobacterial populations. Beyond monitoring and generating awareness, the collaborative is also trying to proactively prevent blooms from occurring in the first place.
The CMC gathered on UNH's Durham campus in January 2020 for a conference to discuss the ongoing efforts to track blooms and strategize about ways to educate the public. Warren Muir was among the 69 participants who attended in person, joined by 18 others across New England and as far away as Colorado who participated via video. Participants represented environmental nonprofits, town and city departments, state and federal organizations and Penobscot Indian Nation.
The conference was a joint effort among UNH Extension, the UNH Department of Biological Sciences, the UNH Center for Freshwater Biology and the Environmental Protection Agency (EPA) Region I Laboratory.
Bradt explained that decreasing the amount of nutrient runoff into lakes requires looking at the activity that occurs near the water like paving, fertilization, tree cutting and septic system installments.
"We look at ways to lessen the problem, which means thinking about the conditions that allow the blooms to flourish," he says.
How You Can Help
Hilary Snook of the EPA serves as the program lead for the CMC. At the 2020 conference he presented about ways that the public can help scientists and water resource managers (view videos from the conference here). "We're connecting people with different backgrounds, developing new tools—whether it's a webpage or Twitter account," he said.
Here are a few ways you can get involved.
Download the bloomWatch App
Learn more about cyanobacteria and report blooms by using the bloomWatch app on your smartphone. 
Connect with Your Local Lake Association
Find out what is happening with monitoring and management of your nearby lake. Not sure who to contact? Check out this list of New Hampshire lake associations.
Decide What Next Steps Are Right For You
Contact Shane Bradt at UNH Extension through e-mail (shane.bradt@unh.edu) by phone (603-862-4277) or on Twitter (@limnoshane) to find out more ways you can get involved with helping track and monitor cyanobacteria.
This article was originally published in January 2020; updated in September 2020. The CMC rolled out a new pilot project in the summer of 2020 and sent kits to groups throughout New England to collect cyanobacteria samples. The EPA used advanced analysis techniques to characterize the types of cyanobacteria and toxin concentration for each sample. This project provides both useful information to individual lakes and a more comprehensive overview of cyanobacteria across the region.
Related Resource(s)
Author(s)