Magnificent Dry River Old-Growth Forest is a Hidden Gem in Crawford Notch State Park
---
An ancient forest lies in the heart of Crawford Notch State Park. Visible from Route 302, this type of forest is rare in the state of New Hampshire. It boasts trees that are both older and larger than trees in most forests. It is an exemplary example of an old-growth forest.
I define an old-growth forest as a natural forest that has developed over a long period, generally 150 years or more, and has not been disturbed by logging, windstorms, or forest fires. In addition to numerous trees 150 years old, old-growth forests lack human disturbance and have large trees, structural diversity, and often a chaotic scene of dead or downed trees. See a list of the 11 characteristics defining old growth forests in Finding Old Growth Forest in New Hampshire.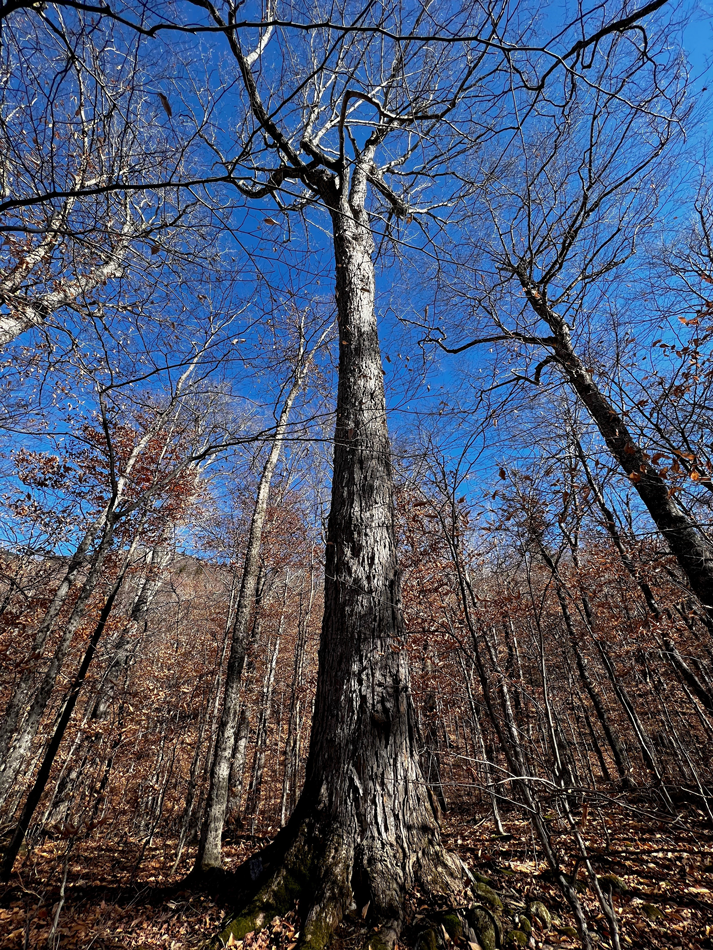 Why is Dry River an Old Growth Forest?
The State of New Hampshire purchased Crawford Notch State Park in tiny Hart's Location as a Forest Reserve on June 18, 1913. This 5,925-acre forest reserve acquisition was approved by the 1911 NH State Legislature. The intent was to preserve the scenic beauty in the heart of the White Mountains while extensive logging was going on elsewhere. It is not surprising then that a considerable amount of old-growth forest exists in what is now Crawford Notch State Park.
What is surprising is that more people do not know about this ancient forest visible from US Route 302. Even though reasonably flat, this particular forest was saved from being converted to pasture or cropland by early settlers because the ground is exceptionally stony.
Dry River is not the only old-growth forest in Crawford Notch State Park. Not yet mapped are several hundred additional acres of old-growth forest, including a red spruce forest along the Webster-Jackson Trail near Bugle Cliff. Crawford Notch State Park also contains an uncommon stand of Jack Pine (Pinus banksiana) growing along the Webster Cliff Trail and visible from the trail.
The Dry River Campground has 36 wooded campsites that are well spaced, nicely maintained, and attractive. The campground is a great place to stay and enjoy all that this gorgeous state park has to offer. The Conway Scenic Railroad is worth taking to see even more of Crawford Notch. One could easily spend a week exploring all that Crawford Notch State Park has to offer.
Visiting Dry River Old Growth Forest
Visitors interested in seeing this magnificent forest have a couple of options depending on how much time and distance they want to walk. An easy 0.7-mile each-way walk along the Dry River Trail to Dry River will provide an excellent introduction to this forest. For those who have a couple of hours, I recommend a 2.5-mile walk described in more detail below.
The starting point for a walk in the Dry River Old-Growth Forest is the Dry River Trailhead located 0.4 miles north of the Dry River Campground on US Route 302. The trail features magnificent yellow birch, sugar maple, and white ash, with some trees exceeding nine feet in circumference. There are also sizeable American beech, red oak, and hemlock trees in this nearly 100-acre forest. On an October visit, I saw several "bear nests" in the beech trees. These are where bears have broken off branches in the beech trees to get at the beechnuts, and it gives the appearance of a squirrel nest in the trees.
 At 0.5 miles along the Dry River Trail from the trailhead, you will come to a junction with the Saco River Trail and a spur trail south to the Dry River Campground. Continue straight ahead along the old bed of the Saco River Logging Railroad that is now the Dry River Trail for another 0.2 miles.
At this point, you will come to a sign for the boundary of the Presidential Range-Dry River Wilderness of the White Mountain National Forest. In front of you is the normally placid Dry River showing signs of severe flood damage from a 2017 storm. While the State Park contains original old growth forest, the Presidential Range-Dry River Wilderness was logged by the Saco Valley Lumber Company between 1892 and 1898. The forest here is around 125 years of age, as evidenced by the abundance of white birch. In time this forest will develop old growth characteristics. 
Return the way you came until you reach the junction of the Saco River Trail, where you turn right (north). The Saco River Trail is a lightly used, blue-blazed trail that traverses stony ground from old stream channels. Take your time and enjoy the big trees here. Continue along the Saco River Trail for a half-mile, passing some huge yellow birch and sugar maple trees that seem to touch the sky. Stop again when you come to a large boulder a few feet off the trail on your left. At this point, you will have seen one of the finest old-growth northern hardwood forests in the White Mountains.
When you see a large tree be sure to look at the bark of the tree. This bark is quite different from the bark of younger trees. Depending on the species, you may see deep furrows, as in white ash trees, or large plates, as found on old yellow birch trees. Also look at the crowns of the old trees. The have survived many storms and often have broken tops. Check out the downed logs that are decomposing. These old logs provide habitat for salamanders and other creatures. 
Old trees have bark that looks quite different from younger trees. Old white ash trees have deep furrows and the "money tree" is an old yellow birch with large plate-like bark.
You can retrace your steps back to the trailhead or continue another mile to the Webster Cliff Trail and see old hemlock, spruce, white pine, and American beech. On your way back, you might want to take Maggie's Run Trail (not on the park map) where you will see more of the old-growth forest. This short trail will take you to US Route 302, a short distance north of where your vehicle is at the trailhead.
Suggested Reading:
Finding Old-Growth Forests in New Hampshire, exploring the unique characteristics of old growth forests.
New England's Roadside Ecology: Explore 30 of the Region's Unique Natural Areas, by Thomas Wessels features a chapter on the Dry River Old Growth Forest. I suggest you pack the book with you on your visit.
For a list of other old-growth forests, see Top Old-Growth Forests to Visit in New Hampshire
 
Find and nominate old-growth forests at Old Growth Forest Network
The Eastern Old-Growth Forest Conference is being held September 21-23, 2023 in Moultonborough, NH.
David's professional background was with the U.S. Forest Service, where he worked for 33 years until retirement in various positions and locations across the country as a Forester, Silviculturist, and Forest Fire Management Officer. David worked for 20 years on the White Mountain National Forest. Since his retirement, he works for RAVEN Interpretive Programs as a Naturalist. David has also worked as an expedition ship naturalist in Alaska and Iceland. Among his many roles David is a UNH Extension Volunteer for NH Big Tree, Coverts, and Speaking for Wildlife programs.
David is a co-author of Forests for the People: The Story of the Eastern National Forests. He served as technical advisor for the documentary film The People's Forest, and has written numerous magazine and journal articles on forest history. He recently completed a goal to visit all 175 National Forests and National Grasslands located in 41 different states.
Author(s)