Teen Inspired to Spread a Healthy Living Message
4-H Youth Leadership Team president Daisy Burns shares her thoughts on the 2019 National Healthy Living Summit, wellness challenges for teens and what the future holds.
---
This spring, 4-H teen members(l to r) Emma Galonski, Ella Falcone, Daisy Burns and Abigail Brown, along with two adult advisors, represented New Hampshire at National 4-H Healthy Living Summit in Chevy Chase, Maryland. We recently caught up with Burns to ask her how the trip went, but also what were some wellness issues challenging New Hampshire teens.  
---------------
What is the National 4-H Healthy Living Summit?
It is a 4-day program at the National 4-H Conference Center for youth around the country interested in any aspect of healthy living, from nutrition, to mental health, to drug awareness. This year there were well-known health speakers, workshops and fun healthy related activities.  A group of us went as the New Hampshire delegation.
What was the best part of the trip? 
All of the amazing people - it just gives me a lot of hope for the future of this country. There was such an uplifting energy at the Summit with all of those amazing, empowered teens. Everybody is so nice and inclusive.
The 4-H Foundation of New Hampshire provided the funding for this trip. What would you like to say to those members? 
First of all, thank you. I so appreciate all of the work they do. We all came back so empowered from learning what other states are doing and we can bring those things back to our state to expand our program.  It that will be with us after high school, in college and as a 4-H volunteer.  
What is the Grilled Cheese Challenge and why was it important for this trip?
It's so fun! The grilled cheese challenge is a timed competition with a team of three who are judged on teamwork, food safety, safety with the griddle, presentation of the food, knowledge of nutrition, and of course the taste of the grilled cheese. I think it is a really great competition, because it lets people know how much you can do with a grilled cheese to make it healthy. You can use whole grain bread, fruits or veggies. It also makes people think about adding healthy things to other meals like adding veggies to their mac and cheese.   
For the National Healthy Living Summit, our team presented it as a workshop for other states. I think it was the first one ever selected from New Hampshire. Kids from other states loved it. 
What is your favorite thing to put into a grilled cheese to make it healthier? 
I am actually a big fan of tomato and onion.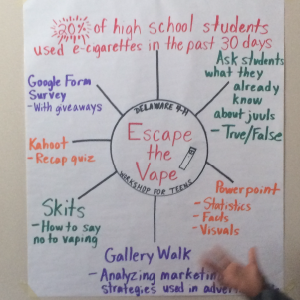 What do you think are the most pressing wellness issues for teens?
Mental health is a really big concern right now. I feel like social media plays a big part in that. I feel like it creates so much competition and unhealthy views for people, that it really affect teen's mental health. I also think that drugs and Juuling is a big issue for New Hampshire specifically.
Did you say Juuling?  What is Juuling?
Oh yeah, like vaping. It's almost like electronic cigarettes, but it is a little bit different. They have vape pods with nicotine. It's kind of becoming an epidemic in all the high schools because they are small and easy to carry around. Almost everybody I know Juuls.
At the conference, we talked a lot about Juulling.  I think it's important that we reach out to other kids, because they get talked to by adults all the time and it does not sink in. They think 'Oh, yeah. Juuling wasn't around when you were a kid, you wouldn't understand.'  We can be role models and tell kids what healthy things they can do for stress relief.
What is Daisy Burns doing now and what are your plans for the future? 
Right now I am doing track, which is good exercise. I also am taking law enforcement classes at a tech school in Laconia. If I go into law enforcement I want to be juvenile probation parole officer. I think all of my 4-H experience has helped me appreciate working with youth who are struggling.
I am also taking a cooking and nutrition class through 4-H which is a lot of fun. I am helping Rick Alleva (Field Specialist) and Karen Deighan (4-H Program Manager) in my county (Belknap) to run a mindfulness program (4-H Mindful Me) for kids in kindergarten to 2nd grade every Tuesday afterschool. Oh and I am also volunteering at the Belknap House, which is our local homeless shelter just for families. I got in to that because of the Healthy Living Summit (earning a scholarship for volunteering there) and my dad got trained too, so it's something we do together. 
------------------
Special thanks to Extension's Youth & Family Resiliency Field Specialist Rick Alleva and 4-H Volunteer Tanya McIntire who served as team advisors for the trip. Also thanks to 4-H Healthy Living Field Specialist Heidi Barker for workshop support.
---
Do you love 4-H? Share this post with a friend. 
Post Title Picture: 4-H teens attending 2019 National Healthy Living Summit (l to r) Emma Galonski, Ella Falcone, Daisy Burns and Abigail Brown.
Author(s)