FSMA Qualified Exempt Farms: are you ready?
---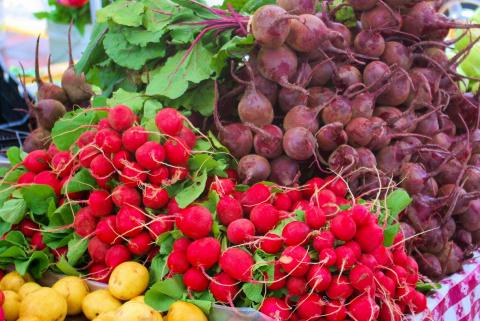 The majority of produce farms in NH are "Qualified Exempt" under the guidelines for the Food Safety Modernization Act (FSMA)'s Produce Safety Rule (PSR).  Being qualified exempt means you have only two very simple things you need to do to comply, so that is a very good thing!   However, you need to have those two things in place for this season, so we're sending out this reminder! 
First lets quickly review.  Under the PSR a produce farm is going to fall under one of three categories, "not covered", "qualified exempt" or "covered". 
Produce is fruits, vegetables, mushrooms, nuts, sprouts and herbs.  If your average annual produce sales for the last three calendar years (2018-2020) was less than $28,561* you are "not covered" and technically you don't need to do anything.  However, we strongly recommend you fill out the two-page form described below because it allows you to prove you are "not covered" should you need to do so. 
Food is anything edible or drinkable by a human or an animal.  If your average annual sales of food were between $28,561 and $571,214* AND more than half your sales go to qualified end users you are "qualified exempt".  Everyone else is fully covered.
Qualified end users are individual consumers who can be anywhere in the world, or retail food establishments i.e. operations whose primary function is to sell food directly to consumers.  Examples of retail food establishments are restaurants and grocery stores.
If you have any questions regarding your status please see our online tool which will ask you a series of questions and based on your answers tell you where you most likely fall.
But let's get back to the two simple things you need to do if you are qualified exempt.  First you need to label the food you sell with your business name and address.  The label can be on the package if the produce is packaged or on a sign at the point of sale if it isn't packaged, or on the invoice.  The deadline for this labeling was January 1, 2020.
Second you need to fill out a two-page form with sales totals for the last 3 years and keep it on file at your farm.  The NH Department of Agriculture Markets and Food may ask you to see it during visits.  The deadline for compliance with this portion of the rule was January 26, 2020, and for the 2021 season you'll need sales records for 2018, 2019 and 2020.  If your business is less than 3 yrs old, you can just use the records you do have.
Not covered farms as we said, technically do not need to do anything, but we recommend everyone who isn't fully covered fill out the two page form and keep it on file.  This is because in order to take advantage of the "not covered" or "qualified exempt" status you need to be able to prove you qualify for it.  This form is the easiest way to do that.  If while reviewing your records you find you do not have the data to fill out the form please contact a member of Extension's Agricultural Business Management Team.
As always with any FSMA questions please feel free to contact a member of Extension's FSMA team or Victoria Smith, Produce Safety Specialist with the NH Department of Agriculture Markets and Food at Victoria.Smith@agr.nh.gov , we'd be happy to help!
 - The UNH Cooperative Extension Food Safety Team
*These numbers are inflation adjusted for sales records for 2018-2020.  For more information see https://www.fda.gov/food/food-safety-modernization-act-fsma/fsma-inflation-adjusted-cut-offs
Author(s)